St Lucia, Caribbean
Imagine being able to see one of the best Marinas in the Carribean from the comfort of your living room; watching the moon reflected on the lagoon in the evening, or eating breakfast outside on your own patio. These are luxuries that you can experience every day from Blue Eden, on Rodney Bay Lagoon, St Lucia.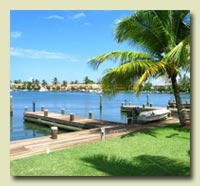 Best of all, you can bring or hire your own boat and have it docked right outside for your use at a moment's notice. If you love boats, then you really couldn't ask for more. Rodney Bay Marina has an excellent reputation and great facilities, all at your fingertips. More pix and info on the marina can be found here.
St Lucia
St Lucia is, without doubt one of the most beautiful of the Carribean holiday islands. It has a huge variation of environments - tropical rainforests, volcanic springs, golden beaches, dramatic landscapes, mineral baths and much more can be found on this tiny jewel of an island. When you consider that the island is only 28 X 14 miles, it's quite remarkable!
Read more about the island here.
Blue Eden - a beautiful villa for rent
Set in the beautiful and exclusive Anchorage gated condominium development on Rodney Bay Lagoon, St Lucia, Blue Eden is a beautiful three bedroomed villa is tastefully furnished and fully equipped and even has its own private docking facility right outside in one of the best marinas in the Caribbean.
This small development is perfectly placed to give you the best of all worlds, being next to Rodney Bay Marina, which has great restaurants, bars and shops, while also being close to the fabulous Reduit Beach where it is very easy to while away the day on the warm golden sand.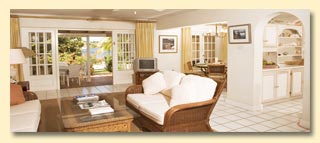 There are all the superb restaurants of Rodney Bay to visit nearby, while you still have the flexibility of an excellent kitchen of your own so that you can enjoy family meals in the privacy of your own villa whenever you want. Also included is a 4 wheel drive vehicle for your exclusive use - there is simply no better way to have a totally flexible, hassle-free holiday on this fabulous Caribbean island. Please read further for details of some of the places that you shouldn't miss - make it as busy or relaxing as you want - it's up to you!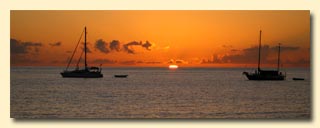 Here's a typical sunset in Rodney Bay. This type of spectacle can be seen just about every day. If you want to see some more stunning pictures, just look through the site.
Gardens & Pools
Surrounded by superb, mature gardens you can sit and enjoy the stunning hibiscus flowers and palm trees or indulge yourself in the large pool and bubble pool, while sipping a cool drink from your own kitchen!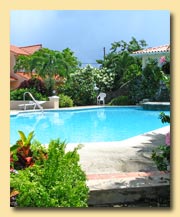 Blue Eden is part of the Anchorage, a small, exclusive, gated villa development which gives the added bonuses of privacy and security, whilst being on the best part of St Lucia. It's a wonderful place for couples and families and kids love the villa and its nautical connections!