Rodney Bay
Rodney Bay has one main beach (Reduit Beach) and one small, secluded beach on Pigeon Island.
Reduit Beach is over a mile long and is a jaw-droppingly stunning Caribbean beach - lots of soft white sand, palm trees and blue, blue water. It's the best beach on St Lucia and one of the very best beaches in the Caribbean.
Three large hotels with restaurants, bars and loads of facilities are right on Reduit Beach. Behind the hotels are many restaurants, bars, shops etc. and whilst these hotels are very handy to stay in, at night, they can be noisy as the Rodney Bay Strip, as it is known, comes to life. Over the years, we have stayed in all the hotels on the strip and the area does, as you would expect, get noisy at night.
If you stay at Blue Eden, you get the very best of both worlds. Because the villa comes with it's own car, Reduit beach is 3 minutes away and Pigeon Island Beach is 4 minutes away!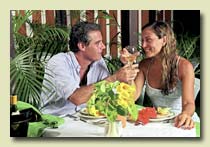 The Lime (restaurant)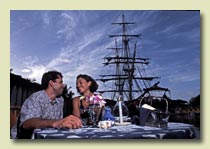 The Coal Pot (restaurant)
The whole Rodney Bay area has the highest concentration of excellent restaurants on the island. Everything from the formal restaurants of the Royal St Lucian to a Domino's Pizza can be found here. There is also an excellent Indian Restaurant with an amazing Nepalese Chef and next to it (almost) is a wonderful Chinese restaurant. Obviously, there are local specialities available, such as lots of fresh sea food -the place is a food lover's paradise.
Rodney Bay Marina
The Marina is widely regarded as one of the safest marinas in the Caribbean. It provides a large range of facilities and berthing for all kinds of boats. There is also a Customs and Immigration office for those of you who would like to arrive on your own vessels.
It is the principal destination for the annual migration of the European / Mediterranean fleet of yachts and so is very popular with 'boaties'.
There are several boat hire companies here for those of you who would like to sail around the island or just maybe hire a JetSki for an hour or two. Prices are pretty reasonable for most small craft - pretty much what you'd expect to pay. If you do hire a boat, you can just sail it around to the villa and moor it right there outside the patio!!
Golf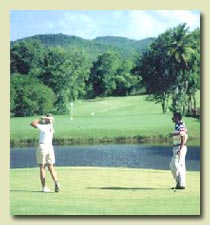 Open year-round, St Lucia Golf & Country Club is set in the scenic, rolling hills of Cap Estates offering panoramic views of both the Atlantic Ocean and Caribbean Sea.
The fully-irrigated 18-hole, 6829 Yard Par 71 course is the only 18-hole course on the island and has a fantastic reputation worldwide. The Club is around five minutes away from the villa, in the Cap Estate.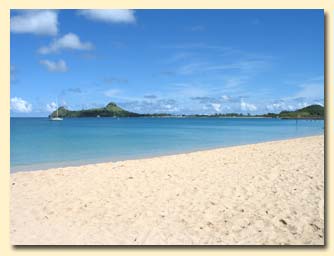 The white sands of Reduit Beach can be seen above. In the distance, behind the boat is Pigeon Island with it's beautiful secluded beach. Most people don't go there because without a car, it a bit of a trek but, hey, you've got a car so it's no problem at all !!
The photo below was taken on a typical day at the Pigeon Island beach. As you can see, it not exactly overrun with people!
Pigeon Island is a nature reserve and has the ruins of an old fort and some fantastic scenery from the top of the hills.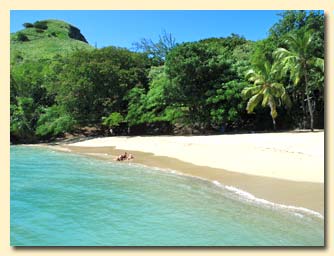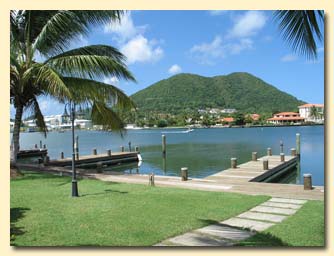 Here's a picture of the villa's mooring facility. This is pretty much what you see right outside your patio! This area is known as the Lagoon and is peaceful - only the relaxing sound of water gently lapping the boat hulls interrupts the silence. More photos can be found in the album section.
St Lucia Jazz
St Lucia Jazz is the best party in the Caribbean and over the years it has become the World's No1 jazz event. If you love jazz, you just have to come here and you don't need us to tell you about this hugely popular event. SL Jazz (Apr 29th to May 8th 2005) is held on Pigeon Island and that's 4 minutes from the Villa. If you want to rent the Villa for Jazz week, make sure that you book early as demand is very, very high.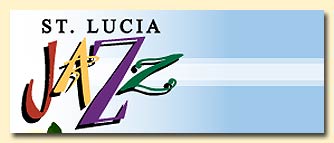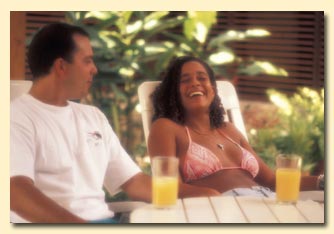 Shops & Facilities
Rodney Bay Marina is around one minute away if you use the car or a few minutes away if you walk.There are a wide range of shops and facilities from Banks to Yatch Hire to be found there and some excellent places to eat and generally hang out if you want to!
Most of our guests tend to head over to the Bread Basket where they serve some excellent breakfasts for very little money. The view above is taken from the BB at breakfast time.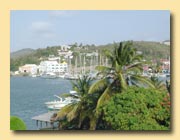 Brace yourself for the voice over though, it's like the start of Sponge Bob!!
Some of the stores that can be found on the marina are below:
Barnards Travel Agency
Bosun's
Bryden & Partners Liquor store
Buddies Scuba Ltd Dive operators
Cable & Wireless Caribbean Cellular CellPhone Sales
Café Olé
Candida's Car Rental
Carib Travel Agency full service travel agency
CTL Car Rental
Drop Anchor
DSL Charters Yacht charter company
Fedex
First Caribbean International Bank Banking services (formerly Barclays Bank)
Island Water World Chandlery
Lucelec
M&C Insurance company
Marché de France Supermarket
Pieces of Eight Gift & souvenir shop
Regis Electronics Sales & Service
Rodney Bay Ship Services Chandlery
Royal Bank of Canada
Rodney Bay Marina Services Misc. services
Scuttlebutts (restaurant)
The Bread Basket Coffee Shop & Patisserie and After Dark Restaurant
TJ's Car Rental
Other Facilities
There is a good shopping mall on Rodney Bay, where you can buy duty-free at such shops as Benetton and local boutiques selling attractive clothes, shoes and accessories. There is also a large supermarket, a pharmacy, plus other amenities such as book shops, florists, photo and phone shops - in fact, pretty much everything you need. There is also another development very close by which has another supermarket, plus a cinema.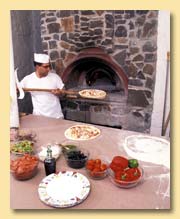 Key Largo (restaurant)