The Villa
Blue Eden is a three bedroomed waterfront house with a patio and garden that overlooks the lagoon.
It has been furnished with items imported from UK & the USA and most of the furnishings have been purchased in John Lewis or Selfridges of London. The interior has been designed and decorated by well known UK designer who is a friend of the owner!
The house is totally air-conditioned throught (upstairs & downstairs) but it really doesn't need to be. With the patio doors open, there is a beautiful cooling tropical breeze that blows over the lagoon and through the house all day.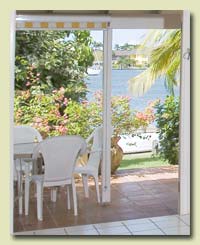 Patio View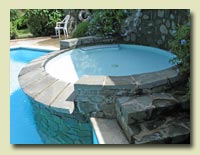 Bubble pool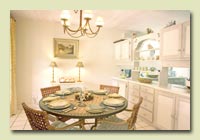 Dining Room
The Interior & details
The living room can be seen above. It is large, spacious and bright. The ground floor is pretty much an 'open plan' design - the dining room and the kitchen are all extensions of this room. There is also a downstairs toilet, hallway, utility room with a washing machine, dishwasher etc. The kitchen is well equipped with all the usual - coffee machine, microwave, food processor etc. and all utensils are, of course, provided should you feel the urge to cook.
There are three bedrooms upstairs as well as a family bathroom and an en-suite for the master bedroom. A maid will visit twice a week and make sure the place is clean. There's cable TV, should you want to watch TV. There is also a phone and an internet connection via cable.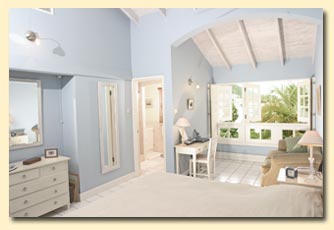 Bedroom 1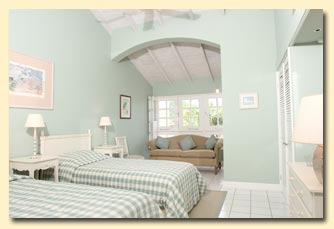 Bedroom 2
There is also another bedroom but this is really a small childrens or occasional bedroom.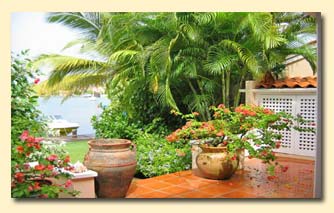 Patio
Other features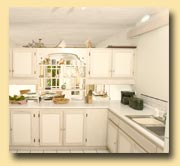 The Kitchen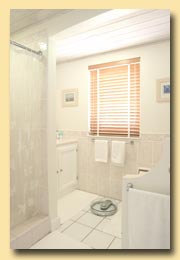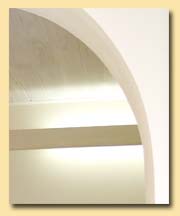 Architectural detail
For obvious security reasons we cannot show you the exterior of the house but pictures of the grounds and surroundings etc are all available here.