St Lucia
Without a doubt, St Lucia is widely regarded as the Jewel of the West Indies. It is a natural marvel and every journey through it will give rise to many oooh's and ahhh's. The place is crammed with beautiful plants and animals and it is indeed a tropical paradise.
Most tourists to the island will stay in the north of the island - the area around Castries (the capital) and Rodney Bay. This area is really 'the' place to be. There are many hotels and places to stay on the island but many people make the mistake of staying somewhere isolated because it looks idyllic. Some of these places are even without phones or TV!. Whilst some people will love this isolation, many find that after a few days, the novelty begins to wear off and they long for a more central location.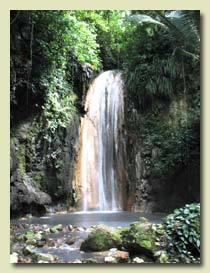 Diamond Falls Soufriere
One of the things that surprises people is the cost of the excursions that local tour companies offer. A typical day trip to Soufriere to see Diamond Falls, Sulphur Springs and Botanical Gardens may easily cost US$200 for 4 people. That's just one tour, for one day! Most of the land tours consist of 10 or 12 people crammed into a small uncomfortable minibus hurtling towards the destination at high speed!
As St Lucia has so much to offer and so many places to see, what you really, really need is a 4 wheel drive vehicle to explore the island in your own time and that's exactly what you get when you stay in our villa in the Anchorage, Rodney Bay Lagoon.
Driving in St Lucia.
If you're a Brit, then driving on the island is pretty much like driving at home. St Lucians drive on the left and most of the roadsigns and regulations are exactly the same. As you can imagine though, driving styles are a little more laid back and loose but overall, the experience is very, very familiar. Petrol is around a third of the price that it is in the UK!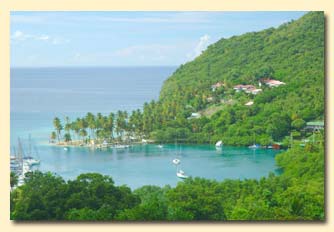 Marigot Bay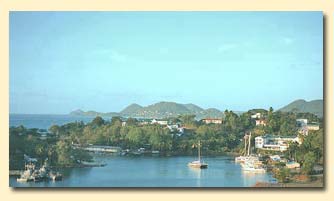 Castries Harbour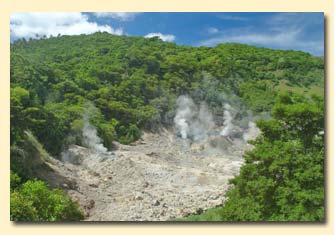 Soufriere Sulphur Springs
...continued
Although St Lucia is approx 28 miles from tip to tip, the roads are unbelievably 'bendy' - Rodney Bay to Soufriere is around 18 miles as the crow flies and yet, it will take almost an hour and a half to get there! It's a fantastic drive though and every bend will reveal strange plants, giant ferns, tropical coves and incredible sea views.
The Weather
St Lucia stays between 83F to 88F pretty much all year round! The rainy season is from May to August but don't let that put you off. It doesn't rain every day and when it does, it lasts for half an hour and then it's sunny again. Usually, people don't even bother to get out of the water as the rain is warm and refreshing! Within a short time, it looks like it never rained at all.
If you are from the UK or Europe, no matter when you come over, the weather is inevitably better here than at home.
Wallpaper
Download this fab wallpaper opposite for your desktop. It's a big file (2mb) because it's a big photo! Size to suit your PC / Mac etc. Thanks to the St Lucia tourist board for the pic.
Download this amazing photo here. Right click and save as whatever you want and where ever you want.

The People
St Lucia has a great mix of people. Africans, Indians, descendants of Europeans and Caribs and some Chinese have been on the island for hundreds of years. Such a diverse ethnic mix has yieded a wonderful, friendly and happy people who you will miss tremendously when you return home. English is the first language and Patois is the second. People are easy going and always keen to help in any way they can. Almost no one is on time for anything and they just seem to march to the beat of a different drum! After a couple of days here, you will understand!
---