Villa rental - how it works
It's pretty simple really, just pick your dates and email or call us to ask if the Villa is rented for that period. We will let you know with a couple of hours. If you decide to go ahead :
Reserve your dates and send a deposit of 40% of the total rental cost.
Pay the balance of the rental 45 days before your arrival
If you have any special requests or questions, just email us.
Any hidden charges ?
There are a couple of charges that you need to be aware of.
St Lucia charges a departure tax of US$22 for everyone that's over 12 years old. This is paid at the airport when you leave the island.
A taxi ride from the airport to Rodney Bay is usually around US$65 one way. You will also need a taxi from Rodney Bay back to the airport when you leave. That will cost the same.
So, why should you choose this villa?
There are many beautful hilltop villas with amazing views on SL. The only problem is that all of them are in remote locations which are difficult to get to even by 4WD. At night they are nearly impossible to find as these roads are often unlit and full of large potholes. Many of these properties are unsuitable for children as there are often perilous drops and low balconies.
The villas near the Pitons are near Soufriere and that's a little town with few facilities that cater mainly for locals. Rodney Bay is much better, but the hilltop villas in the Cap Estate (an area above Rodney Bay) are still at least 15 minutes from the centre of Rodney Bay and that's a journey you have to make every time you want anything from the shops / restaurant / beach. It can, and does get tiresome very quickly. That's why we chose Blue Eden. It's right in the heart of the area and yet peaceful and quiet. Drive if you want. Walk if you want. We even have a few bikes for you to use, if you want. If you have boat you can 'park it up' thirty feet from your back door.
You can do whatever you want to do, but the nice thing is that you don't have to do anything.
Rental rates
High Season (15th Dec to 14th April)
US$2520 per week / $360 per day

Reservation is not possible now!


If you'd like to book Blue Eden for over two weeks, please contact us for special rates.
Remember that a new (2005), air conditioned, automatic, 4 Wheel Drive vehicle is included for you use with the rental of this Villa. No one else offers this and it's worth at least US$850 for a 2 week stay! Most hire companies have 5 to 6 year old cars.
Things to bear in mind
There is a minimum two weeks rental for the Christmas and New year period. Demand is extremely high at this time.
Rentals for the Jazz Week are charged at the December rate of $2520 per week. Book early for this week too.
The Car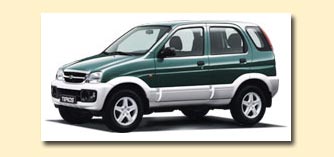 The use of a brand new Daihatsu Terrios 4 WD is included in the rental price for the duration of your stay. You pay for the insurance and petrol during your stay. A temporary visitors driving licence may also be needed ($25 approx).You must produce your home licence to get insurance. As with any car hire, the car will be inspected after your rental. If you damage it in any way, you will have to pay for the damage in full. Expect to pay around US$14 per day for insurance.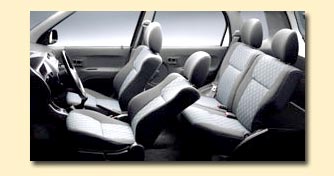 How does it compare?
We love St Lucia. We have come here for many years and we have always stayed in hotels. We have two children (10 & 6) and although we love them dearly, by the end of the 2 weeks of holiday, we could cheerfully scream because they seemed to do nothing but fight for 2 weeks continuously.
Initially, we stayed in a 'family room'. This was basically just one room with two double beds. It offered no privacy for us and when the kids got up at 5am every morning to watch TV, we had to as well.
The next step was to get two separate rooms. This was a better solution but it was twice as expensive and we were never quite sure exactly what they were up to!
This is why Blue Eden is the best of both worlds. You get your privacy and peace of mind and they get their fun and some space. It is right in the middle of the best area to be in on St Lucia - within a few minutes of absoultely everything you need to make a perfect holiday. The car makes all the difference. St Lucia has so much to see but to be totally honest, we found the land based tours to be rather expensive and if you have kids then they can be a nightmare. With the car, you can go at your own pace. Just go somewhere for the morning and laze around in the pool in the afternoon. Just pop over to Castries (the capital) for an hour whenever you feel like it or visit different beaches or any other attractions instead of having to rely on a taxi or someone else. Now you can relax and unwind.
So, what's the total cost?
You need to cost these items before you can get a total cost for your holiday:
Villa rental
Taxi to and from the airport
Departure tax
Car Insurance & Petrol
Visitor Driving Licence (possibly)
Flights to St Lucia